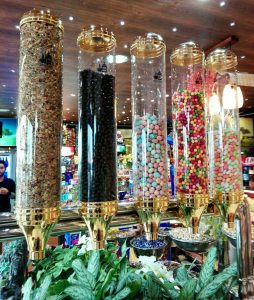 The Brilliant PearloftheBay brings you the best tasting Middle Eastern Products.
we print logos and brands on my products for making a new, nice and innovative decoration for hotel, coffee shop and shop sore and where ever you want.
Advantages of our product are:
Our luxury product is suitable for luxury hotels , shop stores and coffee shops.
Metal parts are made of brass and it has covered by gold.
Glass is Pyrex and abrasion resistant.
Innovative design.
Coffee and nuts dispenser
– Body made of Pyrex glass suitable for abrasive, non-abrasive grain and even oily grain.
– Funnel and cap made of ultra-flex brass plate and coated with gold.
– Standard dimensions: 90 cm high and 16 cm in diameter.
– Easy to fill and unload goods.
– Output with pulling mechanism.
-Suitable for coffee beans, nuts, dried fruits, grains, seeds, smarties, tea and flowing powders and …
– Can be installed on walls, cabinets and buffets, as well as floor using steel holder columns.
– One-year warranty and three years after sales service.
you can watch this video: